Poster Location:
---

Quoted verbatim from Adrienne Fuzee's funeral pamphlet:
"Adrienne Louise Fuzee, (a.k.a. ALF, A. Francois Fuzée, Alien Fuzzy, and the Chicken) was born on May 16, 1950 in Los Angeles, CA to Lawrence and Beulah Fuzee. After graduating from Our Lady of Loretto High School in 1968, she later moved to San Francisco and lived and worked in the Bay Area throughout her life.

One of two openly lesbian African American curators working in the U.S. in the late 20th century, Adrienne was a visionary artist and writer who helped develop and promote the work of artists at the Watts Towers, the Los Angeles Women's Building, New Langton Arts, the Spectrum Gallery, Zocolo Gallery, the San Francisco GLBT Historical Society, Oakland Art Dot Com, and the San Francisco LGBT Community Center, as well as through her own "Galerie Fuzee." Her exhibit "San Diego Contemporary Art" was shown in Yokohama, Japan.



Adrienne co-edited a journal of cultural criticism, Unsolicited Commentary, with Garland Kyle, taught at the San Francisco Art Institute, was the co-chair of Lesbians in the Visual Arts, a founding board member of Qcc: The Center for Lesbian Gay Bi Transgender Art & Culture in San Francisco, and a president and board member of the San Francisco Art Commission Gallery Advisory Board.

Multi-talented and with many interests, Adrienne played guitar, wrote songs and poetry, and briefly ran a catering company "Salads and Salads," demonstrating cooking skills that prompted Lily Tomlin to give her a personally drawn complimentary cartoon. She had an eye for the beautiful and profound in art and in people and was a lifelong seeker of spiritual truth. She had a wonderful sense of humor.



Adrienne died early in the morning when her heart stopped on Sunday, May 18, 2003 at Summit Hospital in Oakland, CA after a lengthy struggle with diabetes. She is greatly missed by her partner Lisa Kahaleole Hall, her brother and sister-in-law Lawrence and Arthurine Fuzee of Carson, CA, and a large loving family of friends."


---
Images*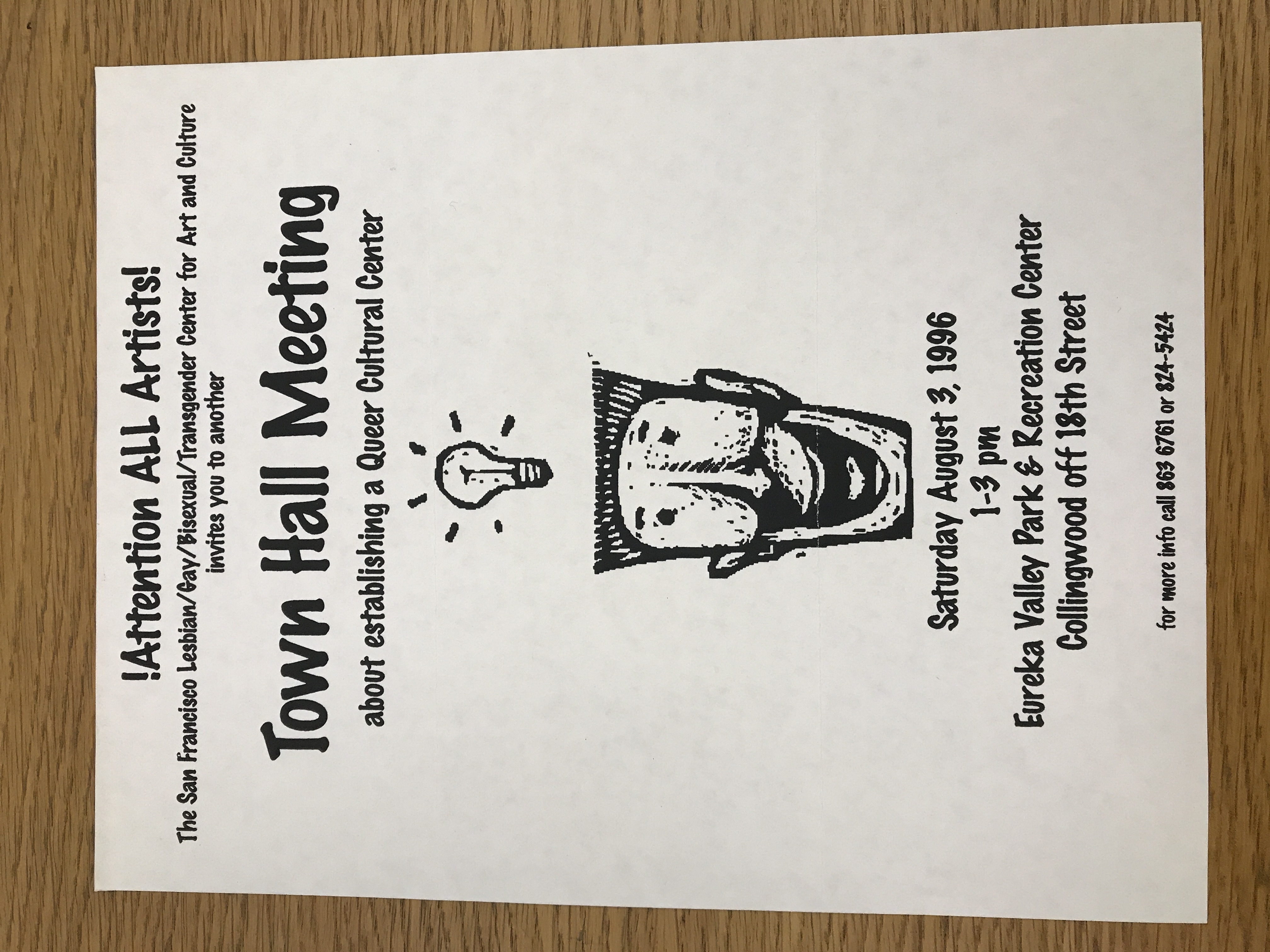 *Images from Remembering Adrienne Fuzee (now defunct Tumblr page) and EG Crichton. Obituary from the BAR. Boy with Arms Akimbo poster found here. Slides of neon art from artist Vince Koloski.


---
Additional Resources

1)
Queer Cultural Center
—Fuzee was a founding board member in 1993 and wrote their original vision statement, still in use; their work to advocate for queer art also continues today.
---
A project of the San Francisco Arts Sommission's Art on Market Street kiosk poster series,
funded by the San Francisco Arts Commission and the San Francisco Municipal Transportation Agency.

www.sfartscommission.org.