Name:
Klubstitute
Dates:
1989–1995
Primary Resource:
Webstitute | Alvin Orloff
Poster Location:
---

Klubstitute was a weekly queer punk underground happening staged in San Francisco in the early 1990s. It was the brainchild of Michael Collins, a.k.a. Diet Popstitute, and his band of co-conspirators. His band, The Popstitutes, included author Alvin Orloff and Tyler Ingolia.

It was a mashup of different artistic and creative genres, ranging from spoken word and comedy to punk rock and play acting. No two performances were ever the same, though general themes of absurd stage props, high hair, and chaotic over-the-top interpretive dance can be seen in many iterations of Klubstitute.



According to Orloff, "Klubstitute was a once-a-week queer cabaret that grew out of a queer open-mic called Out of Order. Between 1990 and 1995 it operated out of a dozen different venues around San Francisco. The city's cheap rent and tolerant attitudes had made it a magnet for creative misfits, so the place was swarming with talented queer artists and performers.

Cross-pollination was a big part of our goal so the same bill might have any combination of poetry or spoken word readings, musical acts, drag queens and kings, performance art, underground films, and live theater. Forcing people from different scenes into proximity produced an atmosphere akin to that of a salon, and we were one of the only queer clubs in town where being creative gave you more cred than being cute.

Because Klubstitute's heyday occurred during the height of the plague, the atmosphere could get emotionally super-charged. You'd see people who were ailing and not know if it would be for the last time. Also true, our youthful iconoclasm was amplified because queer-bashing, both physical and political, was constant." You can read more here.



The AIDS epidemic electrified San Francisco's club scene in the early 90s, not only as an outlet for the relentless and emotionally exhausting nature of living in a time of widespread death but as a way of gathering and processing collective grief and expressing creativity when the queer community needed it most.

Alvin Orloff gave me access to a lot of great original firsthand photographs he and others took of the weekly happening, which was staged at a variety of San Francisco queer bars, including the Crystal Pistol and the STUD.

You can view many original performances from Klubstitute on this YouTube playlist:






---
Images*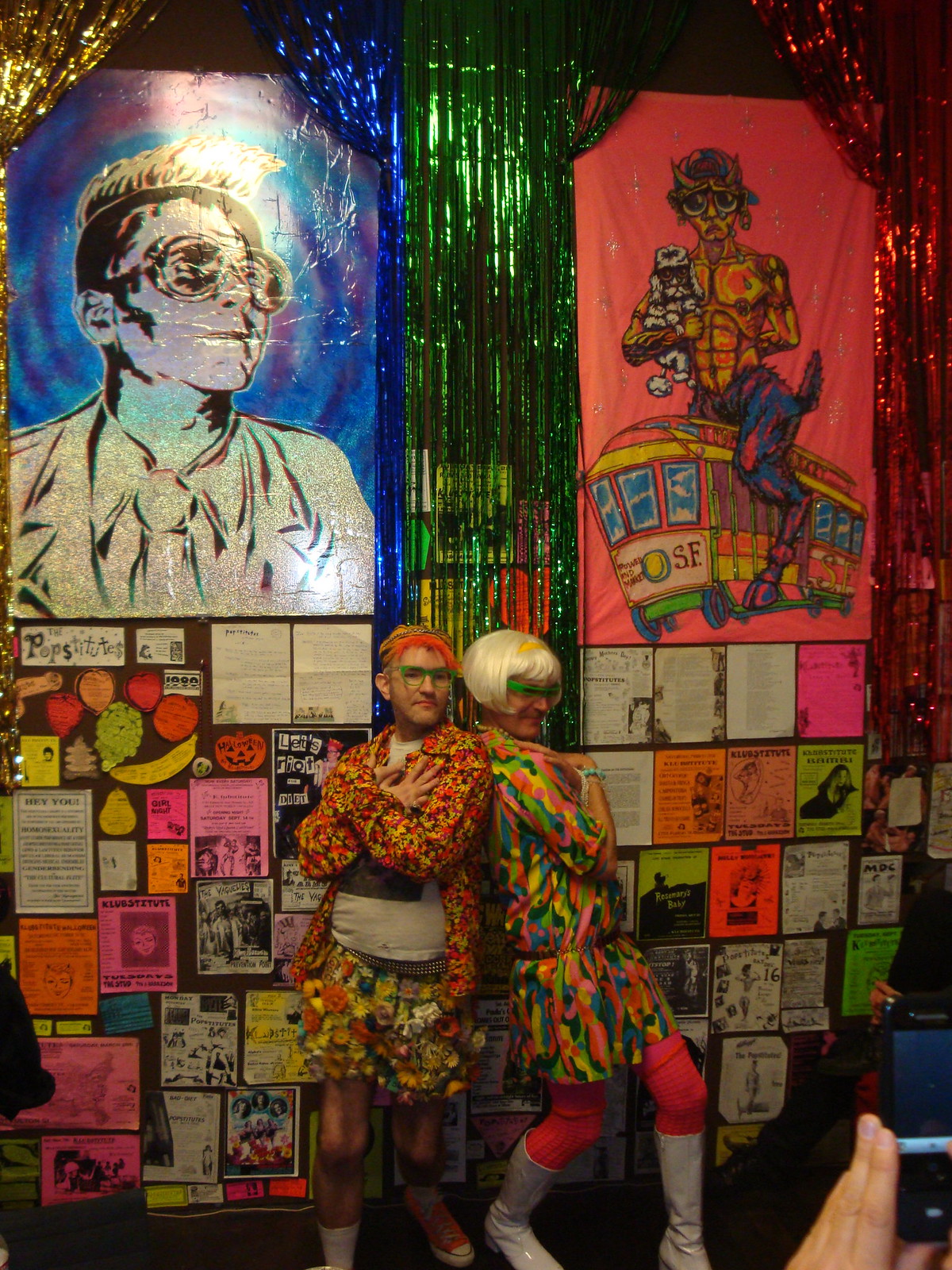 *Images from Tony Vaguely on Flickr, the Klubstitute FB Page, and Alvin Orloff.


---
Additional Resources

---
A project of the San Francisco Arts Sommission's Art on Market Street kiosk poster series,
funded by the San Francisco Arts Commission and the San Francisco Municipal Transportation Agency.

www.sfartscommission.org.