Name:
Theatre Rhinoceros
Dates:
est. 1977
Primary Resource:
Theatre Rhinoceros Website
Poster Location:
---

Theatre Rhinoceros is the nation's oldest and longest-running LGBTQIA+ theater. It was founded in 1977 by the late visionary theater queer Allan B. Estes, Junior. It began as a company of players whose first production, Doric Wilson's The West Street Gang, was staged at SoMa leather bar The Black and Blue.

According to his obituary, published in the BAR on May 6, 1984, "Allan came to San Francisco from Boston in 1977 with one goal: to establish a theater where Lesbians and Gay men could go to make and see theater which reflects the realities and joys of homosexual life. Theatre Rhinoceros was the result." Allan tragically died from complications of AIDS at only 29 years old.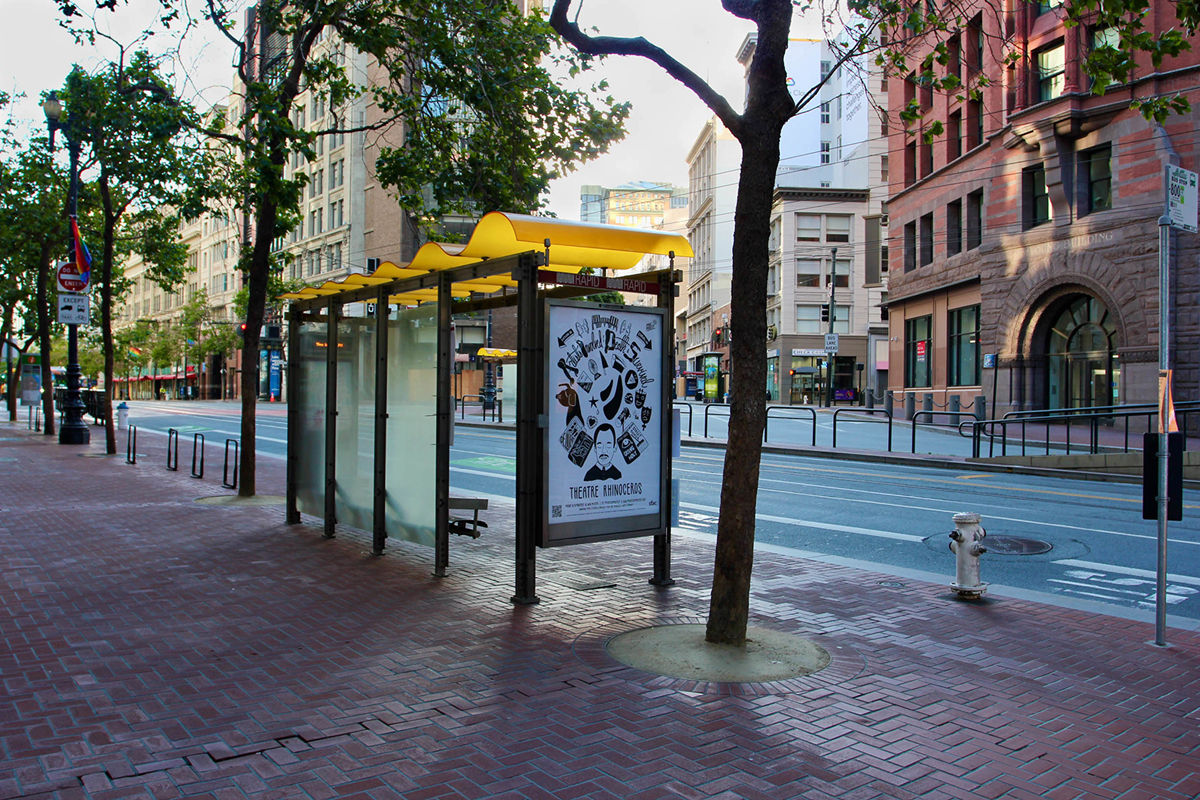 Attendance to Theatre Rhinoceros productions grew quickly from the time it was established as a collective. In its inaugural season in 1977 it only staged 24 performances to a total audience of around 700 but by the time of Estes' death in 1984, the scheule had expanded to more than 300 performances and reached an estimated audience of over 30,000.

Estes' friends and collaborators vowed to continue Theatre Rhinoceros as a monument to their fallen leader. In 1987 the theater garnered national attention for staging a production called Artists Involved with Death and Survival (The AIDS Show), a seminal and deeply personal reflection on the devastation the disease wrought on the gay community in San Francisco and around the world.

Theatre Rhinoceros again expanded its boundaries in 1988 under the direction of Kenneth R. Dixon (1988-1990), "the first African-American to run a non-African-American theatre... [who] expanded The Rhino's boundaries of inclusiveness by staging a production of African-American playwright Eve Powell's Going to Seed, Cherie Moraga's Giving Up the Ghost, and a historic inter-racial production of Mart Crowley's The Boys in the Band."



The theater also staged several plays written by legendary local San Francisco playwright and poet Wayne Corbitt, including his seminal work Crying Holy. The theater received a special GLAAD Media Award in 2008 recognizing their contributions to the queer community in SF and beyond. Then artistic director John Fisher commented, "We've been a theater about the coming-out process, then a theater about the struggle with AIDS, and now we're a theater about everything—everything gay, lesbian, bi and trans. We've really been able to change and represent what's new and the most exciting in queer culture."

Theatre Rhinoceros found its first permanent home in the Goodman Building on Geary Boulevard in the early 1980s, and now stages productions at Spark Arts in the Castro.

You can watch Theatre Rhinoceros' 2018 SF Pride Parade float, featuring a giant purple rhinoceros, travel down Market Street on their YouTube channel:







---
Images*


*Yelp, unless otherwise indicated. Obituary from the BAR.


---
Additional Resources

---
A project of the San Francisco Arts Sommission's Art on Market Street kiosk poster series,
funded by the San Francisco Arts Commission and the San Francisco Municipal Transportation Agency.

www.sfartscommission.org.